Our shopping habits have changed with technological advancements and instead of going to the market to look for clothes and handbags, we can now shop online right from the comfort of our homes. While shopping online the most important thing you have to keep in mid is how to measure clothes or bags so you don't have any surprises when the parcels lands in your house.
Measurement of bag size is pretty important since just from the pictures on the website you cannot get the idea of actual bag measurements. We at Zamani.pk have a large collection of women handbags including bag sets, clutch and crossbody bags. Our customers often contact us about the size of the bag. Therefore, we have specially created this guide on how to measure the handbag size.
There are three main measurements when it comes to women bags namely the Length (L), Height (H) and Width (W). Sometimes women are interested in the strap drop length as well but length and height are always the main consideration and this is what categorise the bag as small, medium or large.
We will now define these terms so you are able to correctly measure. Here is a picture which shows all three measurements.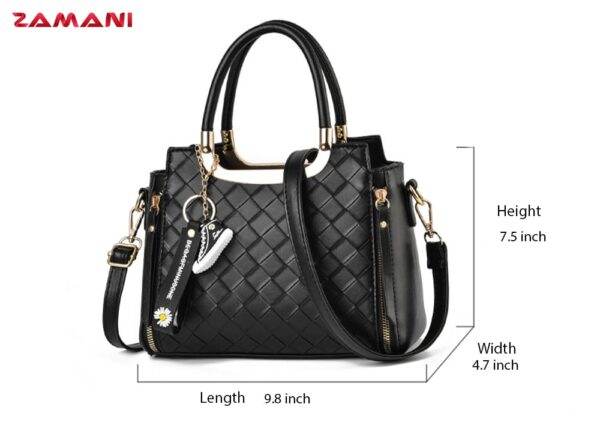 Height
Height is measured as a distance from bottom of the bag to the top of the bag. You can think of it as a vertical measurement where the distance between bottom point and top point is measured.
Length
Length is measured horizontally. It is the distance between left side corner to the right-side corner of the bag.
Width
Width is measured from the side of the handbag. It is the distance between front and back side of the bag.
Here is a short video guide which is showing how to measure the size and how to check the bag size before ordering from our website. You can check our ladies bags collection on our website here