The biggest problem with shopping of clothing is that we sometime sail with wind and feel stuck with irrelevant pile of clothes. Another problem is that sometime we unintentionally destroy our dearest piece of clothing while washing or ironing. Sometime, we don't feel fabric protection and feel in extreme weather conditions. All such problems are mainly due to our lack of knowledge of right shopping for right moments and from right clothing store. Another aspect is our less knowledge about fabric properties which tells us; fabric strength, best performing behaviour, care instructions and construction of fabric.
Good news is that we are covering all your problem in this article once and for all. Read, learn and treat your clothes best for better and long-term experience:
100% Cotton or Pure Cotton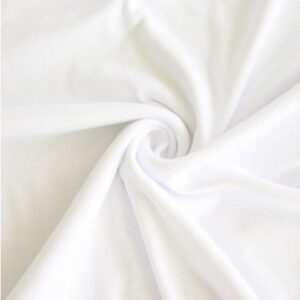 A natural environment and skin friendly fiber that grows in the seedpod of the cotton plant. Delicate fibers normally are one-half to two inches long. Pure cotton is the true feel fabric which will give warm feel in winter and cool feel in hot summers. Normally original cotton has dull nature and less lustrous layout with high breathability and low resistance to water. Due to organic nature this fabric is not preferred on industrial production scale. It has low maintenance cost. Thread count is the key while choosing fabric for fashion wear. Normally thread count above 80*80 is considered the best performing fabric. Due to fibers, cotton has more color absorbent behaviour than other fabrics. Inside out wash and dry is recommended for sustainable colors.
Polyester Mix Cotton/ PC Fabric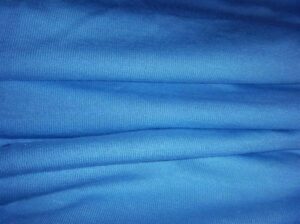 To meet the industrial demand and to retain the natural essence of cotton and strength of polyester. A blend of cotton and polyester is preferred. This hybrid smart fabric eliminates shortcomings of one material and fill the gap with strengths of other fabric. Normally we see 52:48 quality with 52% of polyester and 48% of cotton for female clothing. Popular example of such kind of fabric is lawn which we can see in traditional female clothing specially in India & Pakistan.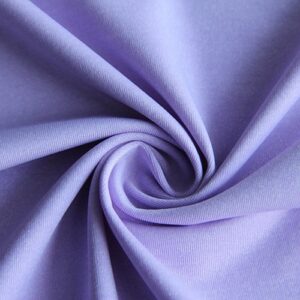 This is man-made artificial fabric, which consists of both fiber and fabric. Polyester has high strength, excellent resiliency, high corrosion resistance and lustrous look. Low absorbance allows the fabric to dry quickly. Mostly uses for track suits, gym wear, sportswear in active apparels. Due to high demand this is the most produced fabric on industrial scale worldwide. It has high wear and tear resistance. But not so weather friendly. Extensive wash of polyester fabrics is hazardous for soil water due to micro inorganic plastic sulphur particles.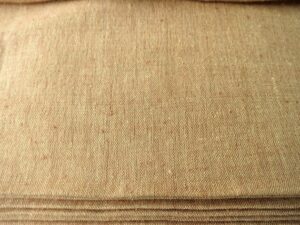 Khaddar is the handmade delicacy of pre-partition east India, a bit raw fabric and a must have fabric for winters. It is made of raw thick cotton, spun on wheels manually and weaved on hand made Khaddi. It is the most resilient fabric as to wear and tear, and excellent protection against warm sub-continental weather.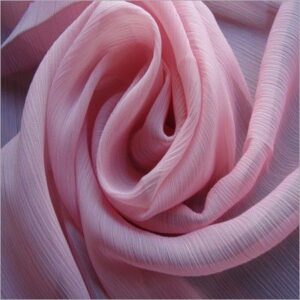 Chiffon is a very delicate looking fabric originally manufactured from silk but now mostly made of polyester thread work. Though it is smoother and looks more breathable, but it is not a good conductor of air. Mostly used in winter wears by adding extra layer which then gives clothing piece a very fancy touch. It can be easily dyed to any color and can be used for evening wear, gowns, trousers and sarees. To give even fancier look chiffon can also be experiment with embroidered thread work.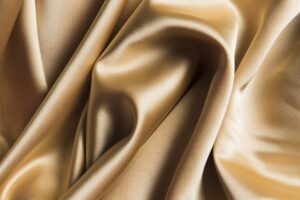 This fabric comes from South Asia and is a natural extract from silkworm. It is well known for its luxurious, smooth, soft touch and glittering elegant looks. It is the most durable and strongest natural fabric. But due to rarity of natural silk filament, it is mostly produced artificially on industrial scale. This is the must have fabric for fancy events. Its lightest composition used in traditional clothing like gowns, saree's and shirts. With more heavy structure it is mostly used in home textiles as curtain and cushion covers. Due to its fancy nature, it is recommended to avoid warm wash.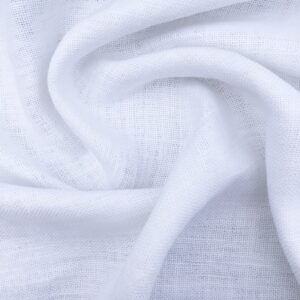 It is very strong and durable material. It is smooth and very cool to touch. It needs regular ironing as it absorbs water very fast. Linen fabric has been practiced for table coverings, bed coverings, and apparel for eras. It wrinkles easily. In spite of having thin structure, linen has got great thermoregulation abilities, which make this fabric a good source of warm comfort in winters. Due to its soft feel, skin friendly nature and anti-allergic properties it is considered the best option for cold weathers.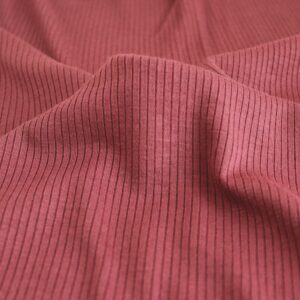 It is an elasticated cotton mix fabric which give more stretch and easy fitting adjustment. Mostly used in undergarments, tights and casual street wears. RIB knit is also another hybrid form which gives stronger and more stretchable limit to normal knit fabric. Double knit, polar fleece, jersey and terry are some of the hybrid examples of RIB blend fabrics. Always try to wash any kind of rib fabric inside out to avoid shine and color loss. It has thermodynamic properties which made this fabric an inevitable part of winter fashion apparel.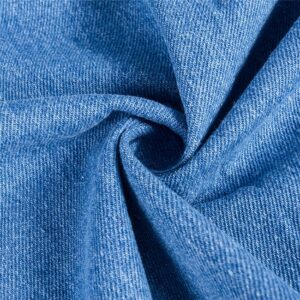 It is the most popular fabric type initially designed for industrial labour. But soon after it's universality, it became popular across the globe as the most sought-after street wear. It is twill rigid cotton dyed fabric, coloured with indigo dye to create blue jeans mostly. Other popular variation is tapered, crushed or acid dyed jeans, which is the most famous street wear now a days. It has a vivid texture and very long durability. Denim is the most widely available fabric for jeans. Normally it is blend with lycra or RIB to create more adjustable fabric giving easy to fit feel. Denim fabric can be fabric print or cloth print. Fabric print is after stitched print, on the other hand, cloth print is before stitching of fabric. Both have their own pros and cons. Brands usually do their in-house processing and finishing before stitching. A high thread count is a sign of great quality. Pakistan, India & Bangladesh are the biggest manufacturer of denim fashion apparels for biggest brands like Zara, GAP, Levi's, Mango & Blend etc.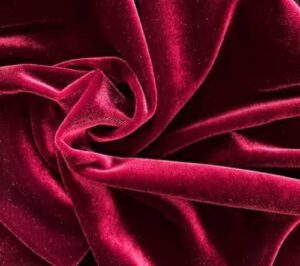 Velvet is very soft and smooth material, very luxurious and shiny, it comes in different qualities and textures, ranging from low to very high prices. It is mainly made of very thin polyester fiber material, which is uplifted from surface through sulzar looms to give more fur like feel. Chiefly used in blouses, shawls, lehengas, jackets, coats and fancy Pakistani wedding dress. We can see major use of this particular fabric in curtains, bedding, upholstery, furnishing, cushioning and in towels. Velvet is more absorbent and of high strength and shiny outlook.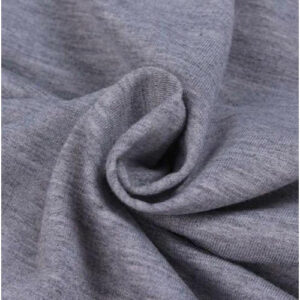 Jersey is an elasticated thick fabric without any clear rib layout. It is a type of knit fabric which can be used both in home textile and for winter fashion apparel. It also gets better with every wash and give shinier look. Due to its high resistance to wear & tear this fabric mostly preferred for upholstery and blackout for curtains.
Jute is another thick and raw fabric mainly known due to its fibre structure. This fabric is highly breathable, not so stretchable and long lasting. Polyester thread mix or self-thread finishing sometime used to create some shine. But mostly it is used for sofa and furniture upholstery and as window curtains. Due to its breathable nature; this fabric used as good conductor of ventilation and due to heavy material, it is mainly used to resist or filter light.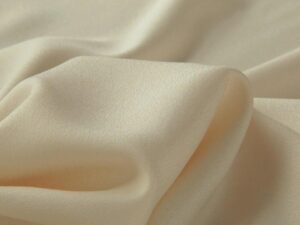 Viscose is manufactured from cellulose with high tensile strength and long-lasting performance. It feels smooth on skin. This fabric is mostly used in gowns lining, shirts, trousers, jackets and in-home textile. Viscose cotton mix also uses in undergarments to give cotton made undergarments more cohesive and stable look.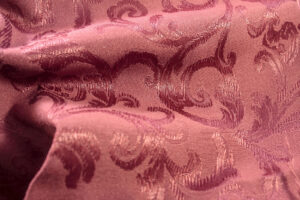 Jacquard is a gulf origin heavy and aesthetical fabric. The main use of jacquard fabric is in home textile; as curtain, cushion, bedding and as upholstery fabric for furnishing. It is a long-lasting heavy weight patterned thick fabric. Jacquard also come in blend form with velvet. Which then gives it shinier and smoother feel along with strength and rigid look. Jacquard gives a great and stiff fall which gives home interior a graceful look.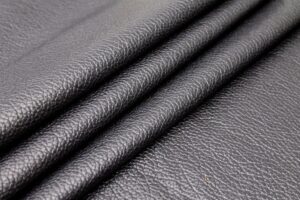 Leather is a fancy heavy and thick organic fabric made of skin of different animals, including cow, crocodile and leopard. Because of rare nature and wildlife concerns, artificial leather or faux leather meet the consumer requirements worldwide. It is used in home textile, purses, fashion apparel and for fashion accessories. Due to artificial industrial production, faux leather can be found with thousands of textures and color variations. It has more water resistance than any other fabric. With chemical spread it can also be used as 100% water proof fabric for outdoor furniture and for fashion apparels.